March 25, 2020—Almost a week after Luzon was placed under the Enhanced Community Quarantine, Lessandra announced on its official Facebook page the first successful reservation done online!
Three new homeowners were immediately welcomed to the angat and aliwalas community of Lessandra Tarlac! It was a proud moment for everyone, as Lessandra truly proved that nothing can stop every Filipino from having their own space, and making their dream home and dream life come true.
"The online reservation process is quite convenient and preferred since you don't have to be physically present on the site or office for details verification. It is a very innovative approach of sales and marketing considering that we are in observance of social distancing." - Mark Tiglao, Lessandra Tarlac New Homeowner
After the successful online reservations in Lessandra Tarlac, more and more started to join the angat community of Lessandra nationwide and even abroad. Successful Online Reservations kept pouring in from the Lessandra communities in Luzon, Visayas, and Mindanao! Lessandra's Online Reservation Process proved to be convenient and trustworthy for all prospective homebuyers in and out of the country.
"Everything was very smooth and easy even from abroad. Payments [were] easy to pay, no hassle. Very helpful staff and very friendly." - Cathy Panuelos Hunter, Lessandra Negros Oriental New Homeowner
More than the positive feedback from the new homeowners, Lessandra sales agents also expressed their satisfaction with this innovative response of Lessandra.
"Lessandra made it easy coping up with the current situation. Hindi talaga ako napahiya sa client when I bragged sa convenience ng online reservation. I mean, we are backed up with everything we need like online trippings and all materials. It is as easy as 1-2-3!"
- Jan Vianca Barrera, Property Consultant, Lessandra Calamba
On April 22, 2020, Lessandra launched the Online Reservation Portal, further surpassing the bars set on the qualities of an easy-to-own housing. Online Reservation was made more convenient, as future homebuyers can do their transactions in one platform, right after the virtual home and site tours!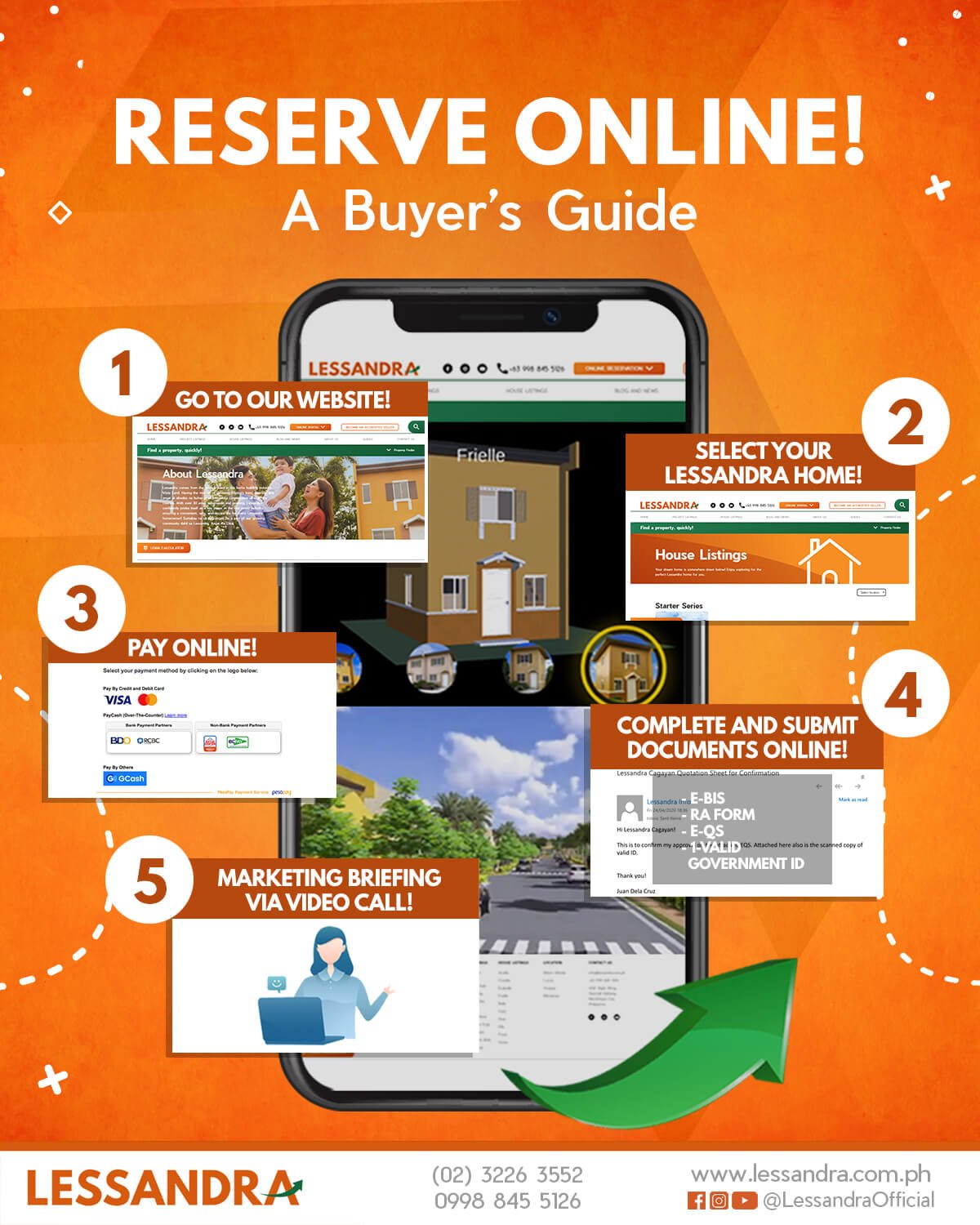 "It was so systematic, and was spoken with assurance and clarity. ECQ did not deter my daughter's dream. Lessandra is a long time desire for a dwelling place [to] come true. May you continue to make more dreams come true. Thank you, Lessandra." - Ma. Gina Lim, Lessandra General Santos New Homeowner
Ultimate convenience right from the start is among the pillars Lessandra was built upon. From reserving properties, to actually having his or her own space in the Lessandra community, aliwalas and convenience remain as the constant companions of each Lessandra homeowner nationwide! Angat Ka Dito sa Lessandra!

Here's the lessandra buyer guide on how to reserve online via agents/property consultants.