Miss hanging out at coffee shops like you used to go with your friends and colleagues? One of the daily highlights affected by the lockdowns is staying at coffee shops for long hours. Gone were the times where you can enjoy that iced coffee drink for hours while chatting with your friends or watching people go about their day.
Since the pandemic started, most people looked for alternative ways that can somehow make them feel just a bit of that outdoor liberating feeling. Among these "quaranthings" that surfaced are the tons of homemade food and drink recipes. On the internet, there are free guides and recipes from all over the world, bringing various favorite foods and drinks from restaurants at home.
Example of Iced Coffee Videos, from affordable house and lot developer Lessandra
One commonly shared recipe in social media is coffee drinks, may it be hot or iced. All over social media platforms like Facebook, Instagram, Tiktok, and Pinterest, several easy iced coffee recipes can be tried at home, even without the various coffee machines used by coffee shops. These home alternatives quench the need to go to coffee shops or out in public.
Easy Iced Coffee Drinks
From easy, cold brew to cream toppings, these featured recipes will surely satisfy your coffee cravings. While the ambiance of coffee shops will remain unmatched, these easy coffee drink recipes may satisfy cravings in the meantime. Here are some must-try iced coffees that are easy to make at home:
1. Iced Vanilla Latte
Iced Vanilla Latte is a simple iced coffee drink that may the usual go-to for a daily caffeine fix. The drink can be done by simply replacing the sugar syrup with a vanilla one in a coffee-milk mixture with ice. As this is a simple recipe, it can be spiced up by adding froth at the top.
2. Iced Cinnamon Honey Latte
Going beyond the basics is also possible to do at home. The Iced Cinnamon Honey Latte combines the spice-y flavors of cinnamon with sweet honey, in a typical iced latte drink. After mixing these ingredients, it's also better to sprinkle cinnamon at the top to add to the drink presentation. It is a great, simple drink after a tiring and stressful day.
3. Iced Coconut Milk Latte Recipe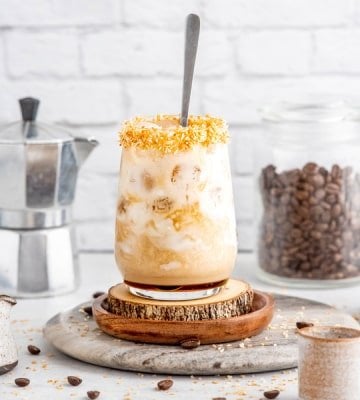 Photo source: Coconut Mama Website
While coconut milk is typically present in Filipino desserts like fruit salad or dishes like Ginataan, it can also be the game-changer for typical iced lattes! It is a flavorful alternative to the usual fresh milk in iced coffee drinks. Its nutty and milky flavor complements the strong and rich taste of coffee, giving your drink a summer-y twist. Pro-tip: you can sprinkle some cinnamon powder for extra flavor!
4. Coffee Ice Cubes with Milk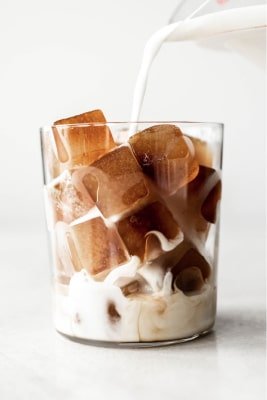 Photo source: Coffee at Three website
Iced coffee is great, but not when it becomes too watery thanks to all the melted ice. One solution is making coffee ice cubes. Freeze a typical black coffee with sugar solution in an ice tray. After making sure they are hard enough, you can now place them on a glass of milk. As the ice melts, gone are the added water that reduce the coffee taste!

5. Iced Coffee with Cream Froth
Level up the typical iced coffee by adding cream froth! Making froths require frother commonly attached to espresso machines. An alternative for this can be frothing the cream through French press by simply pumping the filter repetitively, or buying handy and mini frothers or mixers. This will the drink feel thicker in the mouth, adding more taste and texture to the loved coffee flavor.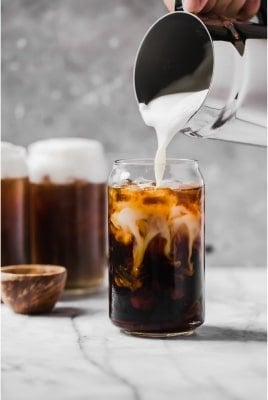 Photo source: Garden Style 2021 website
6. Dalgona Coffee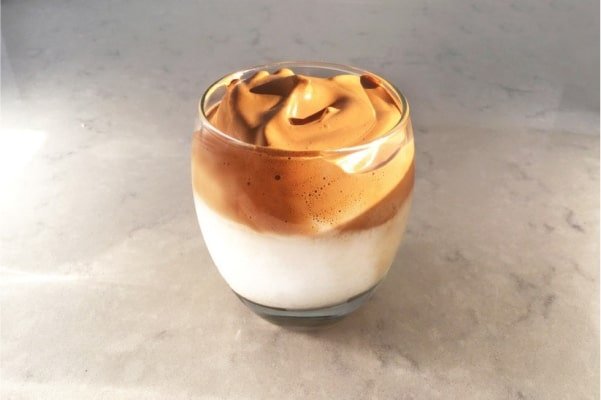 Photo source: Pinterest
Dalgona coffee is one of the famous and trending coffee drinks on the internet when the pandemic started. It is a sweet and foamy cold coffee drink. To make the foam, you will need two spoonfuls of black instant coffee powder, a spoonful of sugar, and a bit of hot water. Mix the three ingredients with a fork or whisk until it becomes foamy and brownish. The process can be faster with a mixer. After making the foam, add it on top of a glass of milk and it's done!
7. Iced Milk Tea Coffee with Pearls
Can't choose from coffee and milk tea? Why not have both? This drink combines every favorite out there: the rich and earthy tastes of coffee and tea, with the sweetness of milk and sugar. By adding tapioca pearls, this drink completes the dream of every iced coffee and milk tea lover.
8. Iced Caramel Macchiato
Iced Caramel Macchiato may be a drink that was created by Starbucks so you almost certainly won't find it in most local coffee shops. It is a vanilla-flavored espresso drink drizzled with a lot of caramel to balance the strong espresso. To make a great Iced Caramel Macchiato, put caramel syrup first on the glass, spreading it on the sides is optional. Then, it is important to note that pouring the milk first before adding the espresso shot is a vital process for this drink, to get the exact desired taste of Iced Caramel Macchiato.
---
Explore more food-related reads at the Food Finds section!
---
9. Salted Caramel Cold Brew with Cold Foam
Salted Caramel Cold Brew with Cold Foam sounds very intimidating at first, as it seems to require a lot of steps just to complete the drink. But, in a homemade version, it may be reduced to simpler steps. First, making a cold brew is as simple as steeping a coffee pouch on cold water and letting it rest overnight. Then, mix the caramel sauce with sea salt. After frothing the milk, pour the cold brew on a glass (ice cubes are optional), add the foamed milk, then sprinkle caramel on top. These steps can be done interchangeably as preferred!
10. Vietnamese Iced Coffee
What makes Vietnamese Iced Coffee different from others is the Vietnamese Coffee Press. This machine is even simpler than the French Press, and it produces a strong coffee drink that eventually makes Vietnamese coffees stand out from other recipes. Added with ice and condensed milk, Vietnamese Iced Coffee can be done almost every day at home.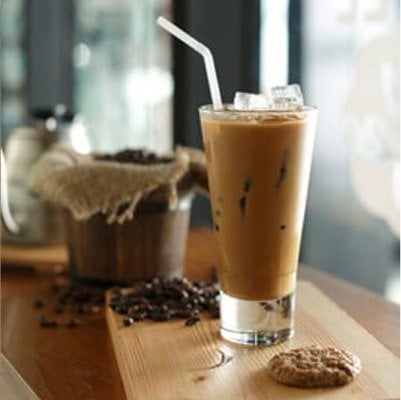 Photo source: Coffee Project Website
The stay-at-home set-up can be more exciting with just the right amount of creativity. By exploring different home activities, anyone can feel refreshed while waiting for the pandemic and lockdowns to be over.

---
Lessandra Blogs and News contains blogs and articles about lifestyle, travel, investments, and tips for owning an affordable house and lot. Lessandra is a trusted real estate developer with affordable house and lots and communities nationwide. To know more about the affordable house and lot in the Philippines, visit Lessandra House Listings now.