SOCCSKSARGEN, also known as SOX, is an administrative region in the southern-central part of Mindanao. The region's name is an acronym for its four provinces and one city—South Cotabato, Cotabato, Sultan Kudarat, Sarangani, and the highly urbanized city of General Santos. Known for its rich cultural diversity and natural wonders, SOX is a must-see spot when exploring Mindanao.
The SOCCSKSARGEN region offers a lot to explore: nature-based activities, cultural, spiritual, and historical spots. Upon visiting the region, you get to witness well-preserved tribal traditions of several indigenous groups, bask under the sun while enjoying picturesque views of nature-based tourist spots, relax by the white sand beaches, and so much more.

Top Spots in SOCCSKSARGEN
Now, let's explore the tourist spots SOX has to offer and take a peek at some of their famous points of interest worth adding to your travel bucket list.
South Cotabato
The South Cotabato province is a rich producer of pineapple, abaca, and papaya. The South Cotabato province boasts itself on its stunning attractions which tourists will surely fall in love with. There are a lot of South Cotabato tourist spot such as the three sacred lakes, namely Lake Sebu, Lake Seloton, and Lake Lahit, with Lake Sebu as the most popular since it has many resorts that offer staycation convenience to the tourists.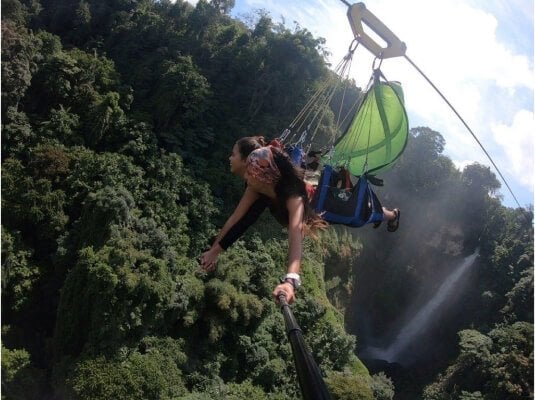 Photo source: Joan's Footprints Website
If you are in Lake Sebu, visiting the Seven Waterfalls and experiencing the highest zip line in Southeast Asia is one for the books. Ziplining at 180 meters or 600 feet high is not for the faint-hearted. But, this thrilling activity offers a breath-taking view of the lush greens and the majestic waterfalls below. After the exhilarating and fun ride, you can complete your Lake Sebu experience by renting a traditional T'boli costume and shopping for souvenirs and pasalubongs at several surrounding stores.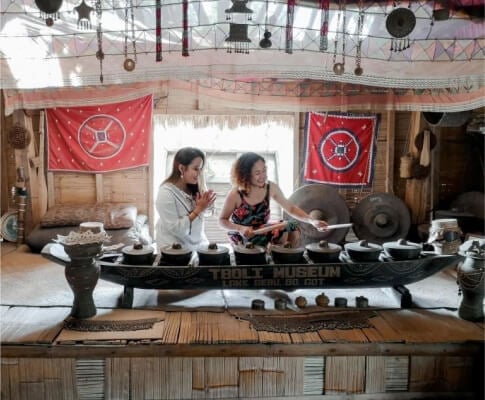 Photo Source: Maja Flores Website
You can also enrich your cultural knowledge in the T'boli Museum, a traditional T'boli house filled with clothes, accessories, and other artifacts showing the rich culture of the T'boli tribe. In this South Cotabato tourist spot, you can also learn more about the traditions of T'boli by visiting the T'nalak Weaving Center where they produce beautifully woven and colorful fabrics made of fine abaca, branding the municipality of T'boli as the "Land of the Dream Weavers".
If you are up for more adventure, try hiking up Lake Holon, another South Cotabato tourist spot located in the municipality of T'boli. Lake Holon is known to be one of the cleanest lakes in the country. There are two trails available in the place, namely the Kule and Salacafe trails. The exhaustion from the challenging hike will instantly melt away once you see the view waiting for you at the top—a majestic work of nature, with the calm waters of the lake reflecting the picturesque mountain ranges surrounding it. Lake Holon is truly a sight to behold and a natural wonder that should be preserved.
Cotabato Province
The South Cotabato province is a rich producer of pineapple, abaca, and papaya. The South Cotabato province boasts itself on its stunning attractions which tourists will surely fall in love with. There are a lot of South Cotabato tourist spot such as the three sacred lakes, namely Lake Sebu, Lake Seloton, and Lake Lahit, with Lake Sebu as the most popular since it has many resorts that offer staycation convenience to the tourists.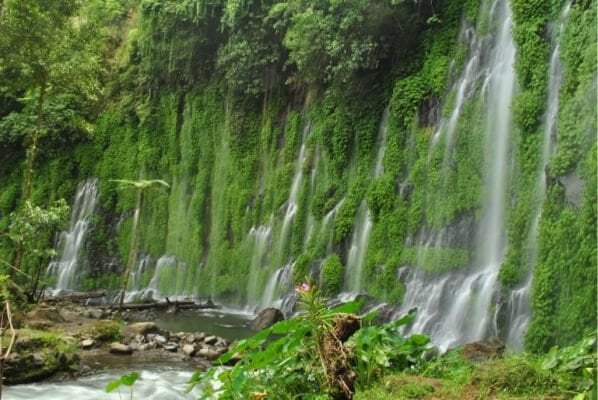 Photo source: Out of Town Blogsite
One interesting fact about this tourist spot is that it was only discovered back in 2010. Because of its beautiful scenery, upon its discovery, lots of tourists continuously visit the once hidden spot, increasing the tourism of the area.
---
Looking for more travel itineraries to visit in the Philippines? Visit the Local Travels page now!
---
Sultan Kudarat
If you are in Sultan Kudarat, it is a must to visit their provincial capitol, as this establishment has a majestic structure inspired by Arabic architecture. The building has a stunning whitewashed theme and a big golden dome at the center. This is where the offices of the provincial governor and vice governor can be found.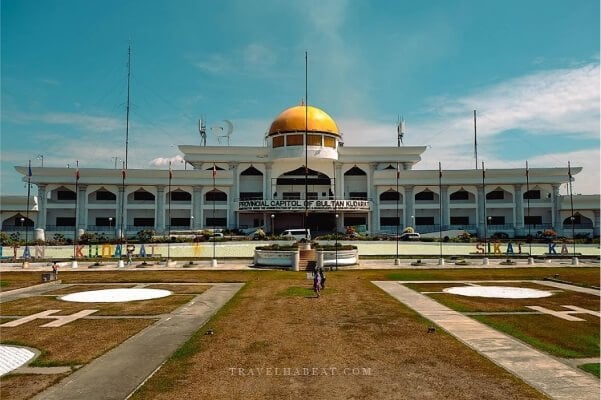 Photo source: Out of Town Blogsite
Another famous tourist spot in the province is the municipality of Kalamansig, where the beautiful Balut Island is located. The Balut Island is dotted with white sand beaches. Tourists visiting the island also revel in the crystal-clear waters, beautiful sights of corals, and bountiful marine life. All of these can be appreciated up close, with the available snorkeling and scuba diving services within the island.
Kalamansig's Balut Island is comprised of 15 households of Manobo and Tausug ethnic tribes. The Balut Island was named after the said famous Filipino delicacy because of its egg-shaped form. As a natural wonder, the Balut Island is a part of the Paril-Sangay Marine Protected Area. Indeed, the municipality of Kalamansig is Mindanao's unspoiled and hidden gem, proving to be a paradise-like destination for tourists.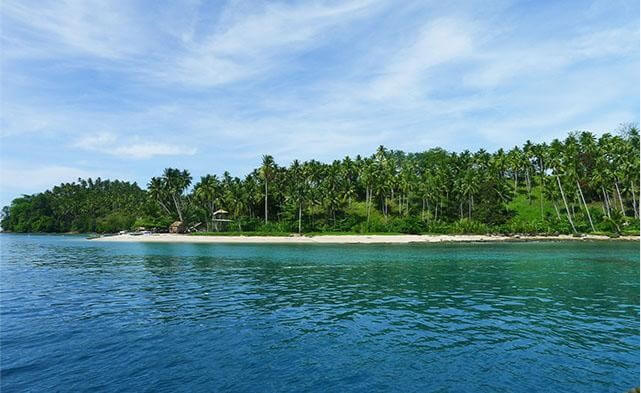 Photo source: MindaNews Website
For bird enthusiasts, another place worth visiting in the province is the Baras Bird Sanctuary located in Tacurong City, Sultan Kudarat. What was supposed to be a 1.3-hectare peppercorn farm became a bird sanctuary for more than 20,000 endemic and migratory birds. Some of the bird species that can be spotted here are the Black Crown Night Heron, the Intermediate Egret, and the Great Egret.
Sarangani
Famous for its white-sand beaches, the Sarangani Province is where the Boracay of the South, Gumasa Beach, is located. In the coastal town of Glan, white sand beaches can be found anywhere. This is also where the famous Sarangani Bay Festival or SarBay Fest, the biggest beach festival in the country, is held annually during pre-pandemic times. With many resorts to choose from, the six-kilometer, long-crescent Gumasa Beach is a must-visit for beach enthusiasts.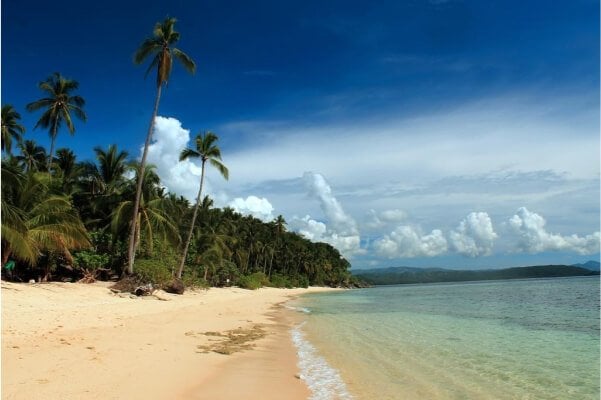 Photo source: Vigattin Tourism Website
Another tourist spot gaining popularity in Sarangani is the adventure-packed water tubing in Pangi River, Maitum. This is the province's version of whitewater rafting, a thrilling activity famous in Cagayan de Oro and Davao. While the former provinces use big rafts, the adventure spot in Pangi uses a rubber tube that can only support one person, followed by a guide as you traverse the wild river stretching for 1.6 kilometers.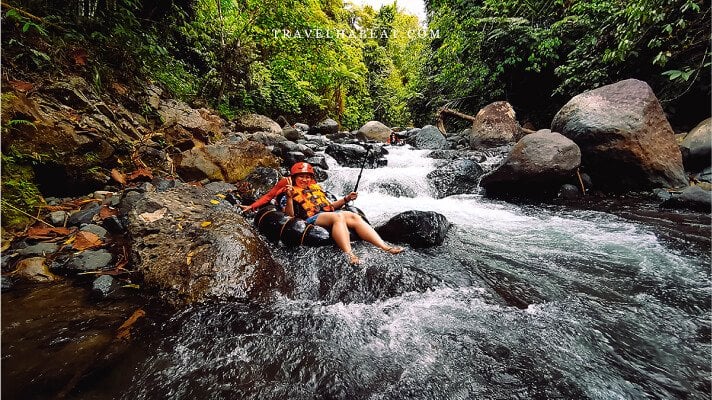 Photo source: Travel Habeat
A great find for those who love to explore life underneath the sea, the Tuka Marine Park in Kiamba, Sarangani is one of the books. Bursting with colorful and rich marine biodiversity, you will surely be in awe when snorkeling or scuba diving in this paradise. From several coral formations to a variety of fishes and marine plants, a colorful life awaits you under the sea. The pristine waters and abundant marine life are protected by the Kiamba local tourism office and its community. It is indeed a piece of heaven that needs to be protected so that the colorful and vibrant marine life can still be experienced by generations to come.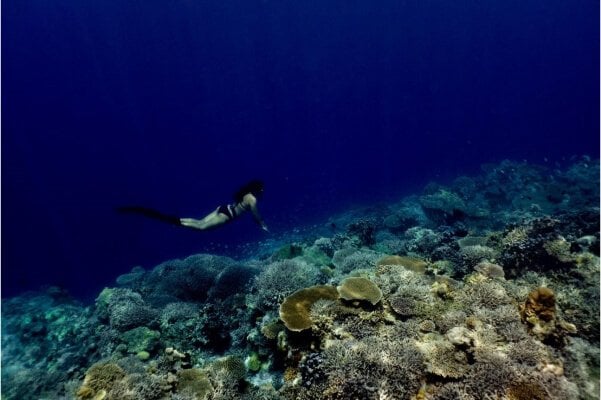 Photo source: Vismin Website
General Santos City
Visiting the Tuna Capital of the Philippines and the Home of the Champions, your trip to General Santos City will not be complete if you don't visit the General Santos City Fish Port Complex where you can observe Tuna Unloading, Tuna Grading, Tuna Hauling, Tuna Trading, Tuna Weighing, Tuna Cleaning, and Tuna Classifying. Before you can enter this General Santos tourist spot, you need to pass by the tourism office so they can provide you with the proper attire (boots and pants).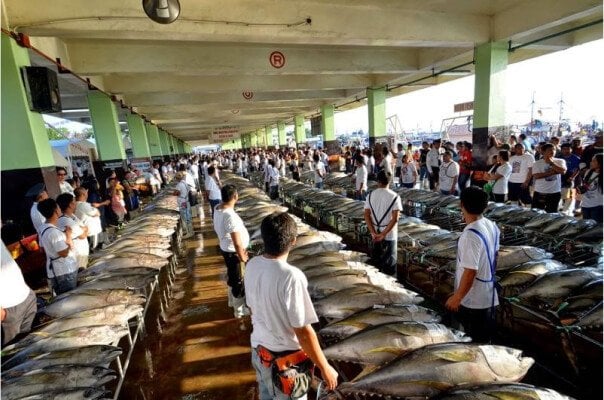 Photo source: General Santos City CEMCDO
For the foodies out there, the Tiongson Arcade is heaven-sent, especially for seafood enthusiasts. Fill your stomach in this General Santos tourist spot, a street night market with a wide variety of mouthwatering plates of seafood and other dishes that will surely give you a whole culinary adventure. Have gastronomic satisfaction after all your SOX adventures and mangaon ta sa Tiongson!
SOCCSKSARGEN is indeed a region of paradise and treasures. A pride of Mindanao with its rich culture and biodiversity, it is a must-see destination for a unique travel experience. The locals revel every day in such a wonderful place and you might want to consider making it your permanent home too. Along with its abundance in the agricultural and environmental aspects, the urban growth in the SOX region has been undoubtedly promising as well, with major commercial establishments and infrastructure developments being unfolding at a fast pace for the past years.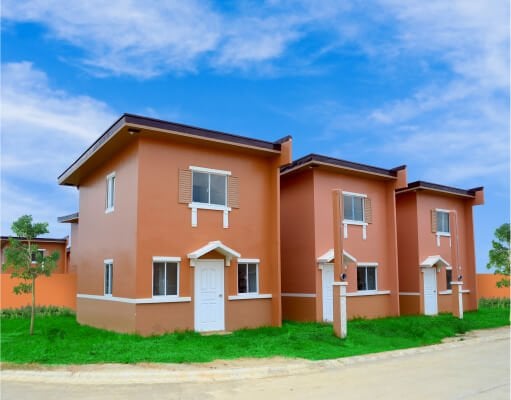 A home near the scenic attractions of SOX without compromising accessibility to daily needs, major thoroughfares, and establishments has long been a possibility. Several developers in this part of the country are offering affordable houses and lots that serve as the perfect addition to investment portfolios.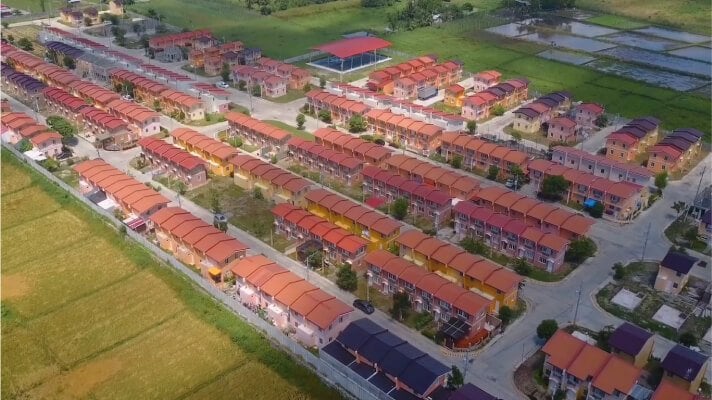 Check out the gorgeous Lessandra projects located in the heart of South Cotabato and General Santos City! Lessandra General Santos and Lessandra Prima Koronadal provide a wide array of affordable houses and lots that boast convenience, accessibility and maaliwalas community feel, serving as your peaceful abode to come home to after all your adventures.
---
Time to make great affordable house and lot investments! Lessandra provides quality and affordable house and lots in the Philippines, with its safe and secured communities situated in prime locations. To know more about the affordable house and lot offerings, visit Lessandra House Listings. To know more about Lessandra communities, head over to Lessandra Project Listings.
Sources:
https://www.pna.gov.ph/articles/1034351
https://joansfootprints.com/2020/04/28/soccsksargen-diy-travel-guide-2020-budget-itinerary/
https://www.soxph.com/2017/07/10-must-visit-places-in-sox-soccsksargen.html
https://www.escapemanila.com/2019/03/top-tourist-spots-in-sultan-kudarat.html
https://www.toponmylist.com/top-tourist-attractions-ssoccsksargen/
https://www.mindanews.com/top-stories/2013/05/feature-the-unspoiled-and-enchanting-balut-island-of-kalamansig/
https://wsimag.com/travel/61801-asik-asik-falls
https://www.philippinebeaches.org/quick-guide-tuka-marine-park-in-kiamba-sarangani/
https://www.thepoortraveler.net/2013/12/baras-bird-sanctuary-tacurong-city-sultan-kudarat-philippines/
https://www.soxph.com/2017/07/baras-bird-sanctuary-always-awesome.html