In September, Apple unveiled its new iPhone lineup. The new flagship phone collection starts at $699 for the iPhone 13 Mini (Php44,990 in the Philippine price) and goes up to $1,099 for the iPhone 13 Pro Max (Php70,990 in Philippine price).
Although it is identical to last year's iPhone 12, the new range has a slightly different configuration, improved camera, and feature enhancements for a comparable price. Read on to know everything about Apple's latest iPhone 13 lineup.
---
Read similar article iPhone 13 and the Other Things You Can Buy for the Price of It
---
iPhone 13 Features, Design, and Specifications
For the iPhone 13, there are just two design changes that are pretty notable when we first see it. First, the back cameras are now placed diagonally. Second, the notch has been reduced by 20%.
The iPhone 13 has a somewhat redesigned button layout. The ringer switch and volume control on the left side are both positioned a little bit lower. This also applies to the power button on the right side.
Aside from that, the iPhone 13 has the same durable Ceramic Shield display that provides improved drop protection. This display was created by injecting nano-ceramic crystals into the glass and manipulating it to enhance clarity while preserving robustness.
You also receive the same IP68 water resistance that you got last year. Because of this technology, the new iPhones can withstand a 30-minute submersion 6 meters deep.
Unfortunately, in the list of iPhone 13 features, lacks Touch ID. Still, it has the same excellent True Depth camera technology and Face ID that you would expect.
---
Stay in the loop! Read on other trending topics like the trending Squid Game and new developments likes the Bicol International Airport.
---
Display
All iPhone 13 versions use the same OLED Super Retina XDR screen, which is rated at 800 nits and is said to be 28% brighter than the iPhone 12. Yet, only the iPhone 13 Pro and iPhone 13 Pro Max versions include a 120Hz display.
We must admit that the difference in brightness is not remarkable. However, it can be useful while attempting to view the iPhone 13's screen under bright sunlight.
The overall display quality of the iPhone 13 remains excellent. Wide color capability creates vibrant colors, and True Tone optimizes the display's light levels to the surrounding light intensity for a more comfortable visual experience.
Cameras
The iPhone 13 range has some notable new camera enhancements, such as cinematic function and macro imaging. Furthermore, the wide camera now collects 47 percent more illumination than the older iPhone.
Another advantage is that the ultrawide lens can now catch four times the amount of images. Additionally, its improved sensor provides greater low-light capabilities while producing less noise. Unfortunately, the basic and mini models lack a Telephoto lens, limiting these versions to 2x optical zoom out.

Image source: apple.com
In many shooting circumstances, the iPhone 13 performed similarly to the iPhone 12. However, the improvement in Night mode is noticeable.
What about video recording now? This is where the iPhone 13 series outperforms its predecessors (and many phones from other brands).
You will feel like a director when you film movies with this phone, thanks to a new Cinematic mode tool. This effect adds depth of field to your video and automatically shifts the spotlight to different subjects.
The iPhone 13's overall video quality is excellent, with enhanced noise control and dynamic range. QuickTake tool, audio zoom, continuous autofocus setting, and the ability to capture 8-megapixel pictures are among the other video capabilities.
---
Test your phone's display quality by binge watching! Check these top 5 Comedy Series!
---
CPU Performance
All iPhone 13 models use Apple's new A15 chip, which does not offer significant performance improvements over the A14.
According to Apple, the new CPU is approximately 50% quicker than the competitors in the market, and the GPU can carry visual tasks 20% faster.
The iPhone 13 received scores of 4,129 and 1,684 on Geekbench 5. That outperforms the iPhone 12 and completely smashes the Galaxy S21's results.
Battery Life
The actual battery specifications for each iPhone 13 model are unknown. However, Apple claims that the new models will have a better battery life than the iPhone 12 range.
The iPhone 13 Pro model is supposed to last 22 hours, and the more advanced iPhone 13 Pro Max model is said to last 28 hours. According to Apple, the longer battery life is mainly a result of a larger battery, the more efficient iOS 15, and the smarter A15 processor.
Regrettably, the iPhone 13 retains the old charging speeds. It charged to 51 percent capacity in 30 minutes using Apple's standard charger and USB-C connection. The charging pace will be somewhat slower if you use Apple's MagSafe charger.
5G Connectivity
In addition to LTE networks, the iPhone 13 models enable 5G connections. Everything from loading webpages to downloading TV episodes and movies would be faster with 5G connectivity. It also boosts bandwidth for streaming sites, allowing you to stream at better resolution.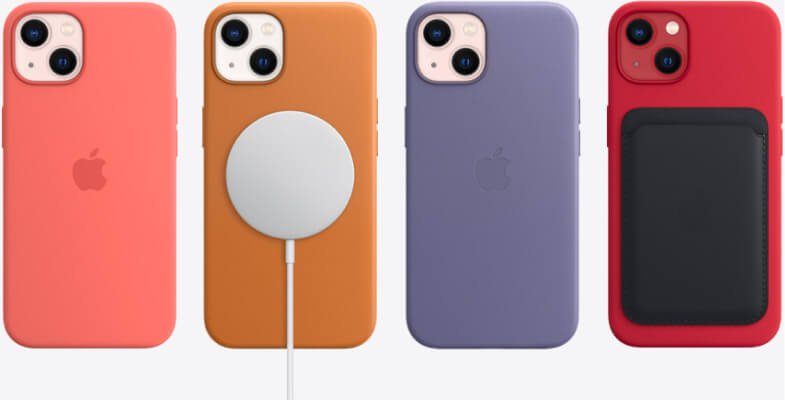 Image source: apple.com
Other Features
iOS 15 brings numerous nice enhancements to the new iPhone, which are centered on sharing activities. And, notifications have been improved, including a new overview mode to prevent you from becoming overwhelmed by continuous notifications.
The new iPhone range also has an Apple-designed U1 chip. It improves spatial intelligence, allowing iPhone 13 models to precisely find other U1-enabled Apple devices.
The iPhone 13 units offer Bluetooth 5.0 and WiFi 6 together in terms of Bluetooth and WiFi connections. A background tag function lets iPhone models detect NFC tags without opening a program beforehand.
The Verdicts
The iPhone 13 is a great phone that sets the standard for what you believe a mobile phone can accomplish.
When you first glance at Apple's newest iPhone range, it does not appear to be all that new. However, as you start working on this premium phone, you find that it offers much more than just a reduced bezel.
According to some critics, the iPhone is in an experimental phase this year. Nonetheless, the iPhone 13 fulfills the standards we have come to expect from premium smartphones these days: desktop-like CPUs, longer battery life, 5G connectivity, extremely responsive screens, and good cameras.
If you already own an iPhone 12, this phone will not seem like a significant upgrade. However, if you are currently using an older iPhone, the iPhone 13 may well be an excellent option for your new daily driver.
---
Lessandra Blogs and News is a compilation of interesting reads with a wide scope of topics from current events, home and lifestyle tips, local travels, and affordable house and lot investments. Check out more of Lessandra's offerings by visiting the list of affordable house and lots at Lessandra House Listings.