What comes to your mind when you hear of the word "chill"? Is it traveling, watching movies, going to concerts, attending parties, or playing sports? While these cannot be done in the current situation due to the restrictions brought by the pandemic, we still have other ways to chill out and have the much-needed break. One way is by going to local coffee shops.
Coffee shops have become a popular spot today. Even in the pandemic, coffee shops are opening up one after another, with a handful of them existing within the same area.
This is evident in Sorsogon City, the capital of Sorsogon province located in the Bicol Region. Since 2020, coffee shops in Sorsogon City have been sprouting in the area. Currently, the City is now home to numerous cafes which offer not only good coffee but also a warm and cozy corner to its customers.
Why Are Coffee Shops Popular in The Pandemic?
Coffee is one of the most popular daily beverages. Some people drink coffee to start their morning while others have coffee to get them going in the afternoon.
Coffee shops offer a relaxed and open feel. Coffee shops have a uniquely calm and intimate atmosphere made up of cozy colors, ambient scent, and chill background music. Cafes are the perfect meeting place for a quick catch-up with family and friends.
Coffee shops are more than just a place to drink coffee. Coffee shops transformed from being a location where you could just get a cup of coffee to a place where you could enjoy a variety of drinks, grab something to eat, spend time with family and friends, and get work done.
Coffee shops are for people to enjoy, leisurely. Customers eat and then leave in restaurants, but in coffee shops, people can sit for hours without having other customers wait in line so they can take a table.
Coffee shops offer unlimited Internet access. Coffee shops are not just offering coffee today, but they also learned to add services that would attract customers. Cafes offer free Wi-Fi that encourages longer visits. Customers can freely surf the Internet while sipping a cup of coffee or enjoying a meal.
Coffee shops are popular workspaces. Coffee shops have become the go-to location for those looking for a flexible work location. Cafes have a warm and homey vibe where people can sit and work in relative privacy. Cafes also make the ideal place for meetings with their relaxed ambiance.
Coffee shops offer a place for studying. During this pandemic, students need a place where they can have their online classes. Coffee shops are perfect spots for studying because of their ambiance. Plus, drinking coffee not only boosts people's energy level but also their mood, concentration, and memory.
From being a go-to place for alone time to catching up with family and friends, studying, or working, the purpose of coffee shops is nearly limitless.
---
The Bicol region is continuously booming. Learn more of the major infrastructures in the region in Major Infrastructures to Look Forward to in Bicol.
---
Coffee Shops in Sorsogon City
Coffee shops are seen as a stop-and-go locations. People visit coffee shops for both work and social occasions. Here are some of the best coffee shops in Sorsogon City you should not miss.
1. L Primero Café
L Primero Café is a newly-opened coffee shop located along Diversion Road, Macabog, Sorsogon City. With the tagline "Brew Better Coffee, Brew Coffee Better", this chill corner is perfect for people who value quality coffee. They use coffee beans from Colombia, Ethiopia, Sultan Kudarat, Bukidnon, and Benguet. Aside from the freshly brewed coffee perfect for your caffeine fix, they also serve pasta and other food choices.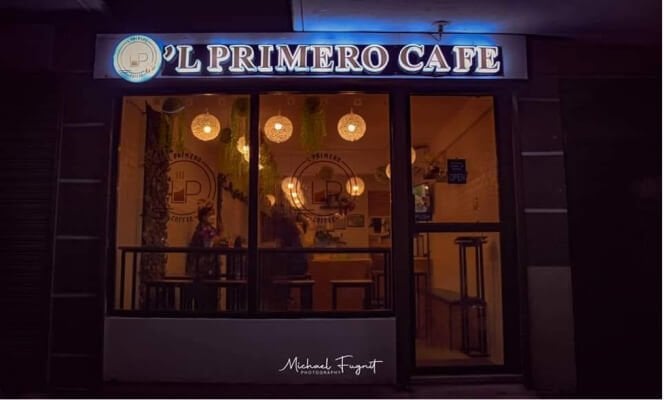 Source: Michael Fugnit
2. Lazy Cups Coffee
Located at Burgos St. Brgy. Burabod, Sorsogon City, this chill spot is a lowkey place for your lazy days. They offer both single-origin coffee and premium imported coffee which café enthusiasts will surely love. They have enough choices of food to pair with the coffee of your choice. This neighborhood café in Sorsogon City also offers one of the best cheesecakes in Bicol. Spend your lazy days and get a quick caffeine fix in this coffee shop.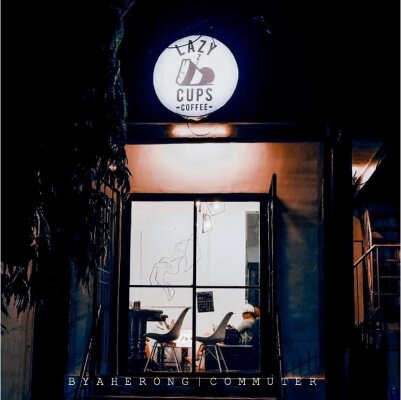 Source: Byaherong Commuter
3. Coffee Cat Café
If you are looking for a cozy café that serves palatable and delicious food in Sorsogon City, visit the Coffee Cat Café located at the 2nd Floor of PIC Building, Magsaysay St., Brgy. Salog, Sorsogon City. This café is a go-to place for those who want to satisfy their cravings for desserts, light-savory snacks, and drinks. This shop offers different kinds of food – from homemade pasta, nachos, naturally brewed coffees, sodas, frappes, cakes, and muffins to their best-sellers that include Mocha Picante, Pili Caramel, and Cafe de Cacao. They also opened Kapetolyo, a new classical-themed coffee shop located inside the amphitheater of Museo Sorsogon.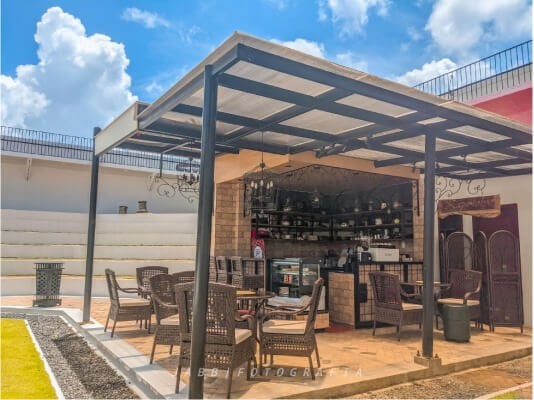 Source: Juliet Alexis Baloloy Beltran
4. The Chancery Coffee Shop
Located at St. Matthew's Bldg. Magsaysay St. Sorsogon City, The Chancery is a coffee shop, a bookstore, and a religious store all in one. This coffee shop is unique among others because they have an area for religious items like rosaries, religious saints' statues, the bible, and other religious books. They offer coffee, frappe, cheesecakes, lasagna, and many more. This new coffee corner in the city is perfect for a serene and quality time with family and friends.
---
Not going out but wants to chill? Watch trending movies and series like Squid game with your family.
---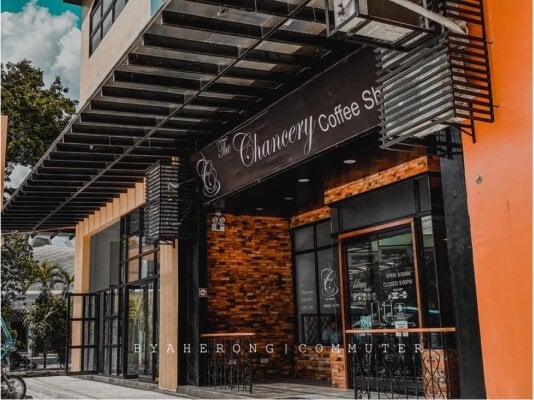 Source: Byaherong Commuter
5. Chocolate Corner + Coffee Shop
Located along Magsaysay St. Brgy. Salog, Sorsogon City, this chill spot is perfect for both coffee lovers and chocolate lovers. They offer different kinds of chocolates, from chips to cookies and other sorts of melt-in-your-mouth goodness. This is a perfect store to satisfy your chocolate cravings or a go-to place to buy a sweet surprise for your loved ones. They also offer Jco donuts which are currently unavailable in other malls and commercial establishments in Sorsogon City.
Apart from enjoying your favorite chocolates in the store, you may also enjoy your favorite coffee selections at Kopi Antonio Arabika located inside. Here you can have the "most expensive coffee bean" in the world at a very reasonable price. They use organic coffee beans which are grown and directly sourced from Antonio's Orchard at the highlands of Bogor, West Java, Indonesia.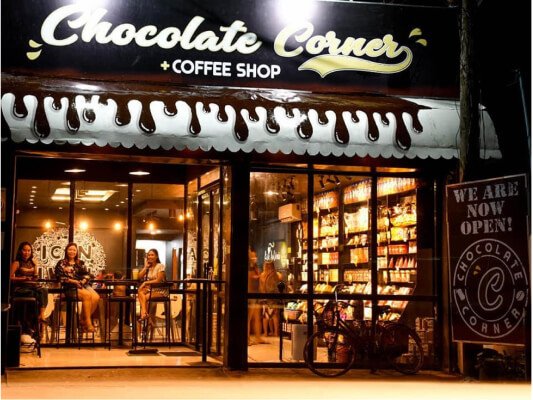 Source: Michael Fugnit
6. Surreal's Cadeau Café
The first Parisian Pink Themed Flower Shop Café in the Philippines is now in Sorsogon City! Located at Dona Esperanza Building, Cogon-Bibincahan, Sorsogon City, this flower shop café is the new most instagrammable café in the city with its flower façade, pastel pink walls, millennial pink couches, and chairs. This will surely be your new favorite spot in town because of its aesthetically pleasing interiors and picturesque corners. They offer coffee, frappes, milk tea, hot flower teas, pastries, pies, cakes, and many more.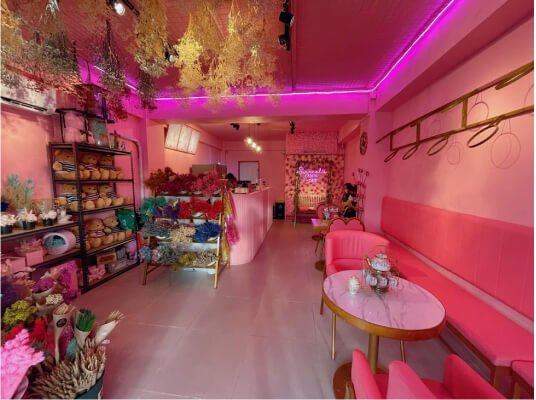 Source: Surreal's Cadeau
7. B&R Café
Enjoy a cozy and much-deserved quiet time at B&R Café located at Balogo East District, Sorsogon City. Away from the hustle and bustle of the city center, this coffee shop is designed to provide customers with an intimate and enjoyable moment with their family and friends. This new sanctuary in Sorsogon City offers a comforting cup of hot and cold beverages, sweets (pastries, cake, and desserts), and savories (pasta and rice meals).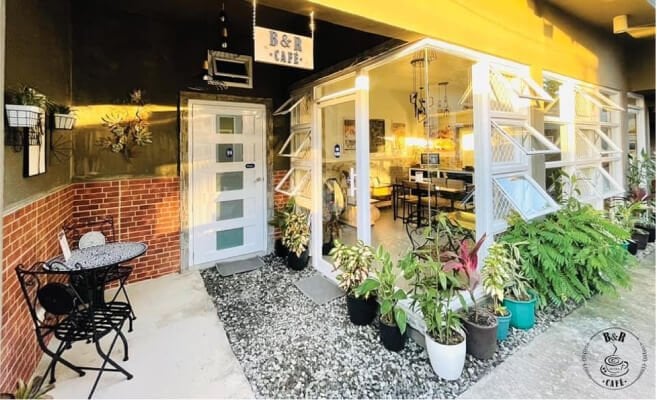 Source: B&R Cafe
8. Bread and Brew Café
Located along Maharlika Highway, Brgy. Cabid-an, Sorsogon City, this place offers freshly-baked pastries, pizza, pasta, and a lot more food and drink choices. What sets them apart from other coffee shops in the city is that they offer delectable cakes perfect for special occasions.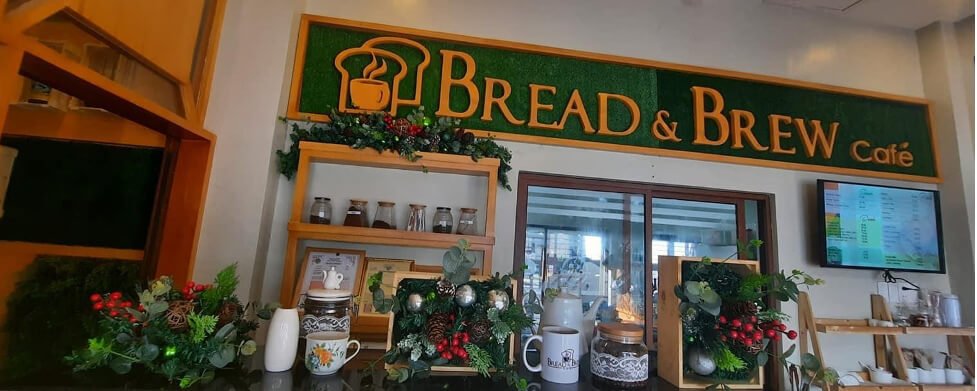 Source: Bread and Brew Café
Your Own Space in Sorsogon City
During this pandemic, people realized that more than just the "chill" or hang-out places, what's important is for you and your loved ones to have your own space.
Less than 10 minutes away from these coffee shops in the city is Lessandra Sorsogon, an Italian-Mediterranean themed subdivision located along Maharlika Highway, Brgy. Cabid-an, Sorsogon City.
Lessandra Sorsogon offers the best quality and affordable house and lot in Sorsogon City with two to five-bedroom features. This maaliwalas community offers a perfect living experience to its homeowners with its proximity to commercial establishments, transportation hubs, hospitals, schools, churches, government institutions, and even tourist destinations. Lessandra Sorsogon also has family-centric amenities which homeowners will surely enjoy, such as the clubhouse, basketball court, and playground. Living in this community truly guarantees a maaliwalas and worry-free life with its 24/7 security and high concrete perimeter fence.
Even indoors, you can still create that ultimate cozy and comfy corner for you and your family. After all, home is still the best place to retreat from our hectic daily lives and bond with our loved ones.
---
Lessandra Blogs and News is a compilation of interesting reads with a wide scope of topics from current events, home and lifestyle tips, local travels, and affordable house and lot investments. Check out more of Lessandra's offerings by visiting the list of affordable house and lots at Lessandra House Listings