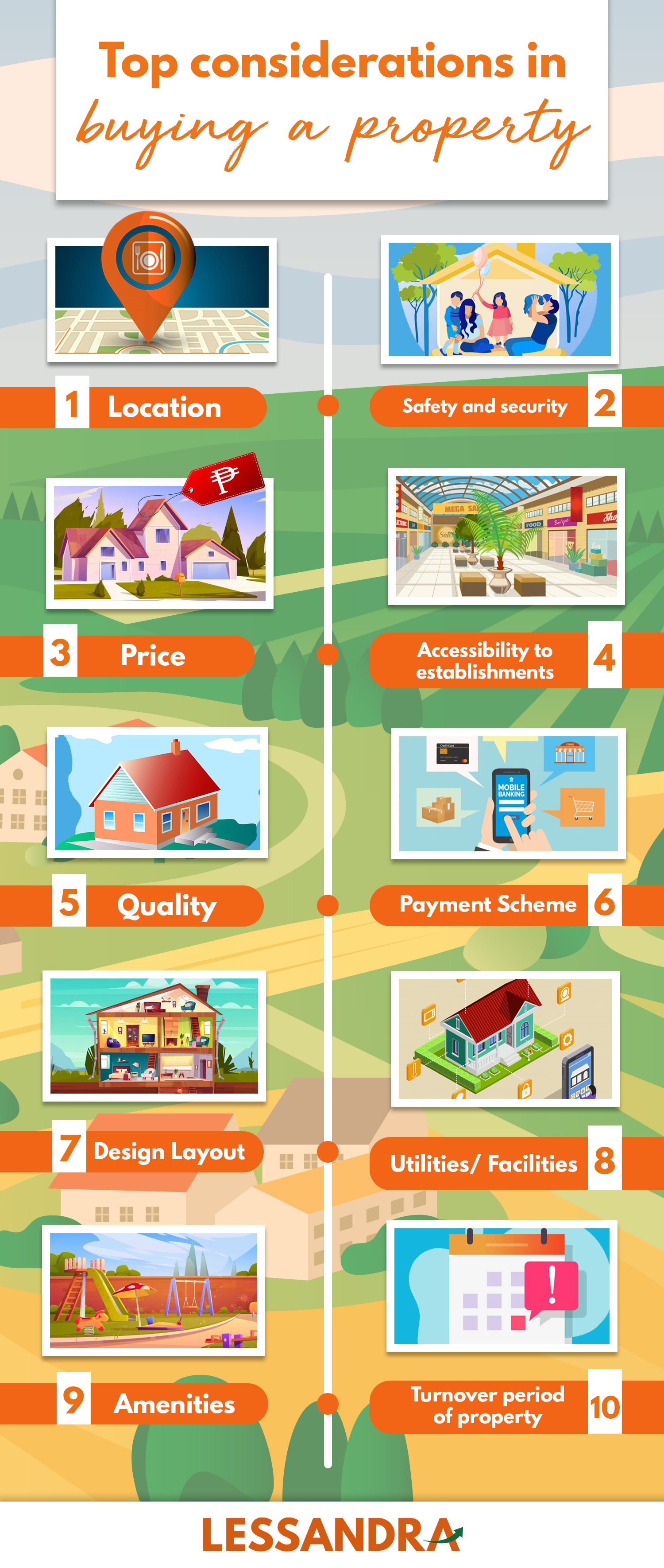 Buying a property is a major purchase decision. It entails much more than just shopping for your daily necessities. It involves research and a list of items to consider to make most out of this investment.
To guide homebuyers, here's the list of top considerations in buying a property.
1. Location
It is highly important to choose the right location of the property. Is it accessible to commercial areas, health facilities, and transport links? This will prove beneficial whether the property is bought as a permanent home or as a source of additional income stream.
2. Safety and Security
Choose a community that will provide security to you and your family. Remember that your home should bring you peace of mind and worry-free living.
3. Price
Buying properties like a house and lot entails commitment and a considerable sum of money. Choose one within your financial means. Nowadays, it is easy to scout for available house and lots for sale. Just visit Lessandra's project listing and you will see the list of communities you can choose from.
4. Accessibility to establishments
Property buyers prefer homes that are accessible or near the establishments for convenient living.
5. Quality
Even if it is an affordable home, quality should not be compromised. It should come with a strong foundation and be made of durable materials.
6. Payment Scheme
Check the payment schemes offered by the developer. Choose the one that fits your needs and financial capability.
7. Design Layout
The design layout of the home also matters. Is it a breathable space? Does the layout maximize the area of the home? Find a home that fits your taste in design.
8. Utilities/Facilities
Are the utilities in place? For a livable home, utilities such as water and electricity should be readily available.
9. Amenities
Aside from the house structure, people also want a community that offers a holistic quality living. Amenities are a good addition on top of having a quality and affordable house and lot as these provide avenues for homeowners to have an enjoyable time within their own comforts.
10. Turnover period of property
How long will it take before you can move in to your property? If you need to move in immediately, choose a ready for occupancy (RFO) house and lot. If you can wait a bit longer, then you can choose a non-ready for occupancy home (NRFO) or one at a pre-selling stage. NRFOs are usually cheaper than RFO properties.
Fortunately, one need not look far and hard for a home that answers all these factors. Lessandra is a house and lot developer that addresses all the above considerations in buying properties.