In recent years, more and more Filipinos opt to settle in areas just around Metro Manila. Indeed, progress is no longer concentrated in the capital of the country. Life has certainly become much more convenient even for suburban residents. How easy and accessible living outside the Metro has become?
Check out these infrastructure developments and road links built to connect the suburbs to the city and to the other parts of the country!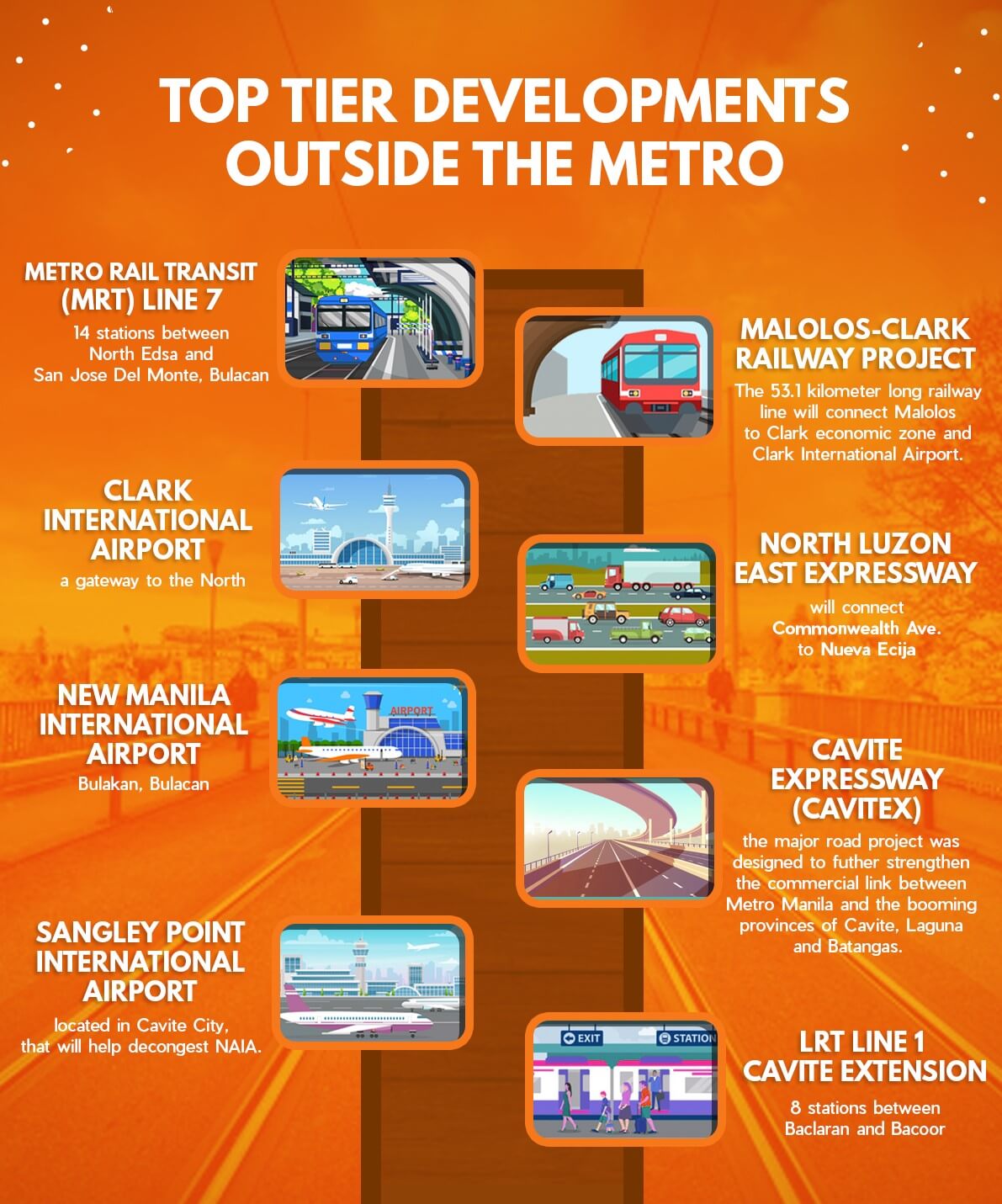 People living in the North or eyeing to live in the North will benefit from these transport networks and facilities.
Metro Rail Transit (MRT) Line 7 - The 23-kilometer elevated railway has 14 stations from San Jose Del Monte, Bulacan, to MRT 3 North Avenue in Quezon City.
Clark International Airport – Clark International Airport is located at Mabalacat, Pampaga. As of writing, it covers 19 domestic and 14 international destinations.
New Manila International Airport – New Manila International Airport has a design capacity of 200 million passengers per year, consisting of four runways and all aviation related facilities.
North Luzon East Expressway (NLEE) – Travelling from Metro Manila to Bulacan will be even faster with NLEE. NLEE is a 19-kilometer toll road which starts at Commonwealth and ends at Norzagaray, with an interchange at San Jose Del Monte, Bulacan.
Malolos-Clark Railway Project (MCRP) – The 53.1 kilometer long railway line will connect Malolos to Clark economic zone and Clark International Airport. It will be the first airport expressway railway service in the country.
The South will not be left behind! Several transport links have either been opened to the public or in the works that will bring convenience to the dwellers of the South.
Cavite Expressway (CAVITEX) - CAVITEX is a 14 km expressway along the coast of Bacoor Bay after south of Roxas Boulevard which exits to Bacoor City and Kawit. It links Metro Manila to the progressive areas of Cavite, Laguna, and Batangas.
LRT Line 1 Cavite Extension – The current LRT line will be extended to Niyog Station in Bacoor City from its existing Baclaran Station.
Sangley Point International Airport (SPIA) – Located in Cavite City, the Sangley Aiport will feature four runways and a terminal that can handle 100 million passengers annually.
With all the projects left and right, real estate investment has become even more enticing as homebuyers and homeowners do not need to worry about ease of living. The gap between the cities has been or will be addressed in no time, and soon, distance will only be a matter of choosing the preferred route.
These developments not only provide access to the localities but also bring opportunities for homeowners to comfortably choose to live in a stress-free community.
If you want to know more about stress-free and aliwalas communities, check out the Lessandra projects present all over the country. Lessandra offers quality and affordable house and lot in the Philippines. Visit its website at www.lessandra.com.ph and social media accounts—@LessandraOfficial for Facebook, Instagram, and Youtube, and @lessandraonline for Twitter—for updates.
Source:
https://ppp.gov.ph/ppp_projects/mrt-line-7/
https://clarkinternationalairport.com/about-us/
https://ppp.gov.ph/ppp_projects/new-manila-international-airport-project/
https://www.dpwh.gov.ph/DPWH/PPP/projs/lamesa
https://www.railway-technology.com/projects/malolos-clark-railway-project/
https://cavitexpressway.com/about-us/our-company
https://www.pna.gov.ph/articles/1093963
https://ppp.gov.ph/ppp_projects/lrt-line-1-south-extension-and-operation-maintenance/?wppa-occur=1&wppa-cover=0&wppa-album=89&wppa-photo=1212