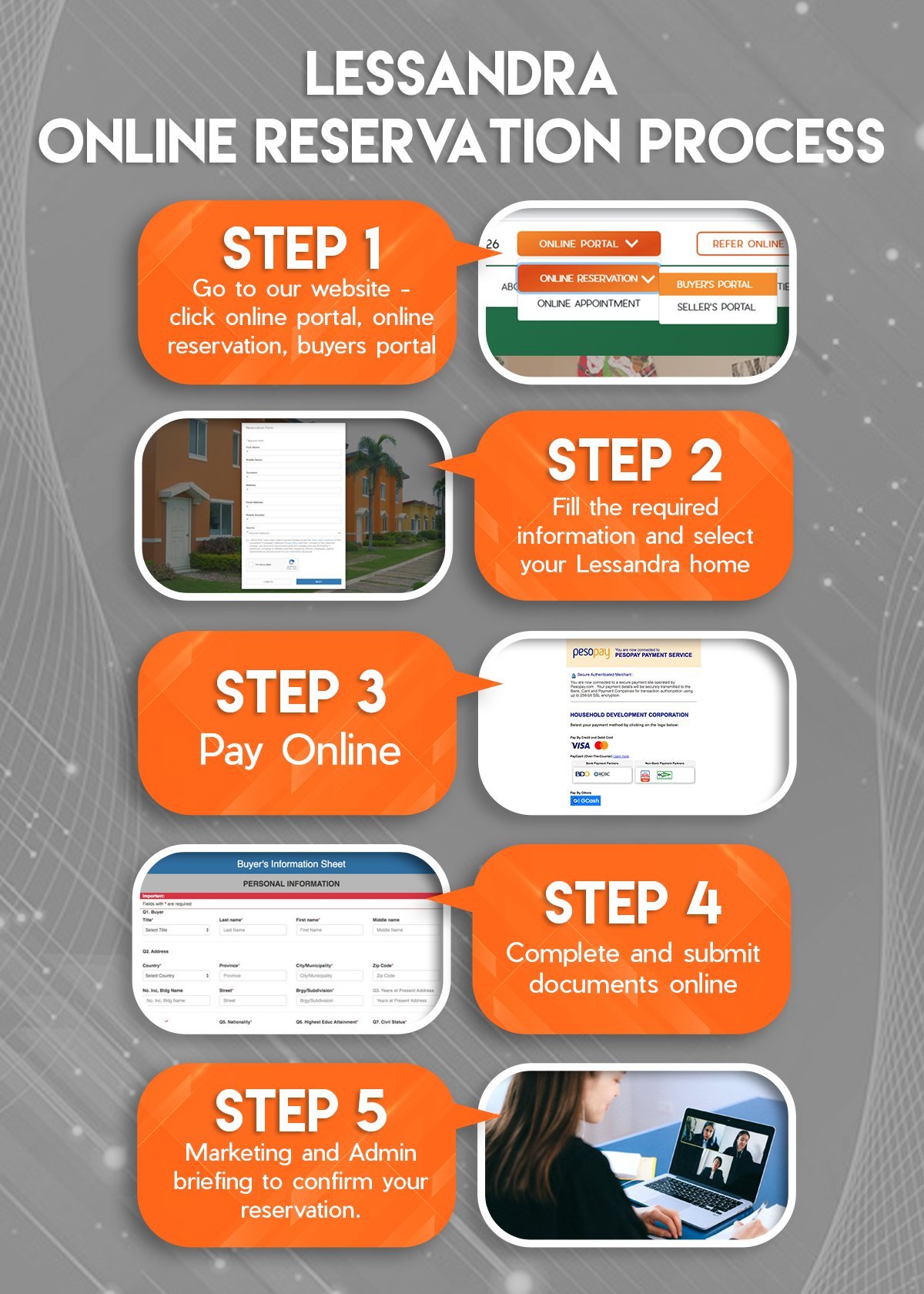 FAQs
Yes, you can reserve your preferred house and lot online via Lessandra's online reservation buyer's portal.
Making an online reservation is simple and easy. All you need to have is a stable internet connection to access Lessandra's online reservation portal.
Two (2) valid IDs will also be needed to complete the online reservation process.
The whole process from the holding of the unit in our buyer's portal up to the Marketing and Admin Briefing has to be completed within 24 hours.
To reserve online, you will only have to access Lessandra's online buyer's portal and fill out the reservation form. After accomplishing the online reservation form, you will be assisted by Lessandra's marketing staff.
You can do an online reservation anytime and anywhere without an agent.
If you have an agent, the agent can reserve/hold your preferred unit for you. For the agent to hold the specific unit for you, you will need to provide the following details:
Full Name
Mobile no.
Address
Email address
Preferred mode of payment (DEBIT OR CREDIT CARD, CHECK, CASH or REMITTANCE
The subdivision name and exact location of the preferred unit
After filling out Lessandra online reservation form, a marketing officer will contact you and assist you throughout the process of the reservation.
You can also send us a message on our official Facebook page at LessandraOfficial and we will be glad to help you.
After filling out the reservation form, a sample computation would be available for download. For further clarifications, you may ask your attending marketing officer to explain the said computation.
Paying your house reservation fee has been made easy in Lessandra. You may choose to pay using your credit card or debit card through Lessandra's partner payment facilities.
There are documents that you will have to sign during the reservation process. It will be sent to you via email, at which you have to attach your e-signature and confirmation, to complete the whole reservation process.
All your documents will be double-checked and will be discussed with you during your marketing and admin briefing. This way, missing details will be avoided.
Go to our website - click online portal, online reservation, buyers portal
Fill the required information and select your Lessandra home
Pay Online
Complete and submit documents online
Marketing and Admin briefing to confirm your reservation.
https://lessandra.com.ph/blog/2020/05/08/tapping-new-horizons-the-lessandra-online-reservation-process