It was already established in Maslow's Hierarchy of Needs that shelter is one of the basic needs of every person. For that reason, it is not surprising that even up to this day, owning a home is one of the major goals in life. Aside from serving as a home, a property serves as an asset and investment through different means; through its value appreciation, a source of income through rental and leasing opportunities, and property flipping.
The advantages and opportunities of having a home should not be missed by anyone. For young professionals, owning a home is a step towards independence and financial stability. For a young couple, it's a way to start a stable married life, and for retirees, it is a relaxing home to spend their longest holiday period. It is also a great OFW investment opportunity for the hardworking Filipinos abroad. Owning a home, indeed, plays a huge part in attaining a person's life dreams and goals, and as such, it is only prudent to choose a home that would serve the purposes it's intended for and the money's worth.
In Philippines, there are many options for properties, catering to the different segments and price points, including the affordable house and lot segment. However, with all the options available, how does one choose the right, suitable, and valuable property? As a homebuyer and property investor, pick the right real estate investment by going with the housing brand that offers not only affordable house and lots, but also quality homes in the most strategic and accessible locations, like Lessandra. As an innovative housing brand, Lessandra provides a seamless experience for home intenders through its digital tools like the online virtual tour, online reservation portal, and its enhanced Lessandra home loan calculator. And now, to further bring Filipinos closer to their dream homes, Lessandra joins the first, and biggest in its kind, virtual property expo in the Philippines, the Villar Group Convention (ViCon).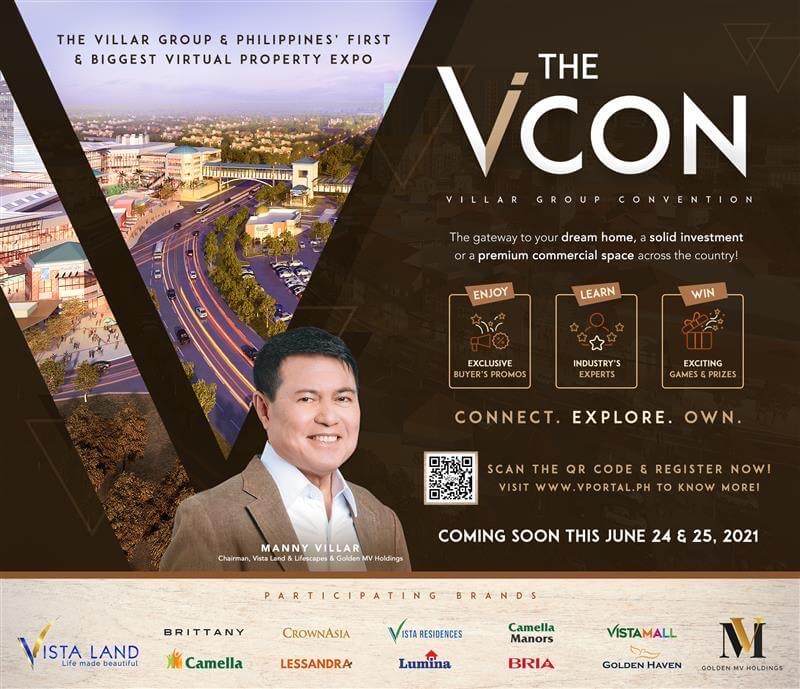 Happening on June 24 and 25, 2021, the two-day event will gather the country's biggest real estate brands in one virtual property expo - Brittany, Crown Asia, Camella, Camella Manors, Lessandra, Lumina, Bria, Vista Residences, and Golden Haven. Property seekers will have the opportunity to scout for the property investment that suit them the best as each housing brand will have their own exhibit booths in the digital expo to showcase their project and house offerings. Buyers can choose from the range of affordable house and lots to condominium projects and even memorial properties, and reserve the preferred property investment on the spot. ViCon will also feature notable speakers and leaders in the real estate industry to share industry insights and trends. Additionally, homebuyers will get to enjoy exclusive promos and get a chance to participate and win in the event's games that will further spice up the convention. ViCon will change the digital landscape of the industry with its first convention digitally, seamlessly.
Visit https://vportal.ph to register and take part in this year's first virtual property expo. Fulfill your dream home and investment.
---
Lessandra is an affordable house and lot developer. For an array of affordable house and lots for sale in the Philippines, check out Lessandra Project Listing. For more information on how to own a house and lot in the Philippines, visit the Lessandra Guides and FAQs section!