Are you ready to make that huge leap towards a successful and maaliwalas life?
We are now in the new normal world, faced with changes requiring a lot of adjustments. The need for safety and security has been apparent now more than ever. What better way to achieve that longed sense of comfort than having your own space?
One of the leading homebuilders in the country, Lessandra, in partnership with Vista Land International Marketing, Inc. (VIMI), joins the International Property Roadshow for a deep dive into owning maaliwalas spaces in the Philippines and exploring the current status of real estate at this time of new normal, a much-needed discussion for investors seeking a balance in perfect homes and investments.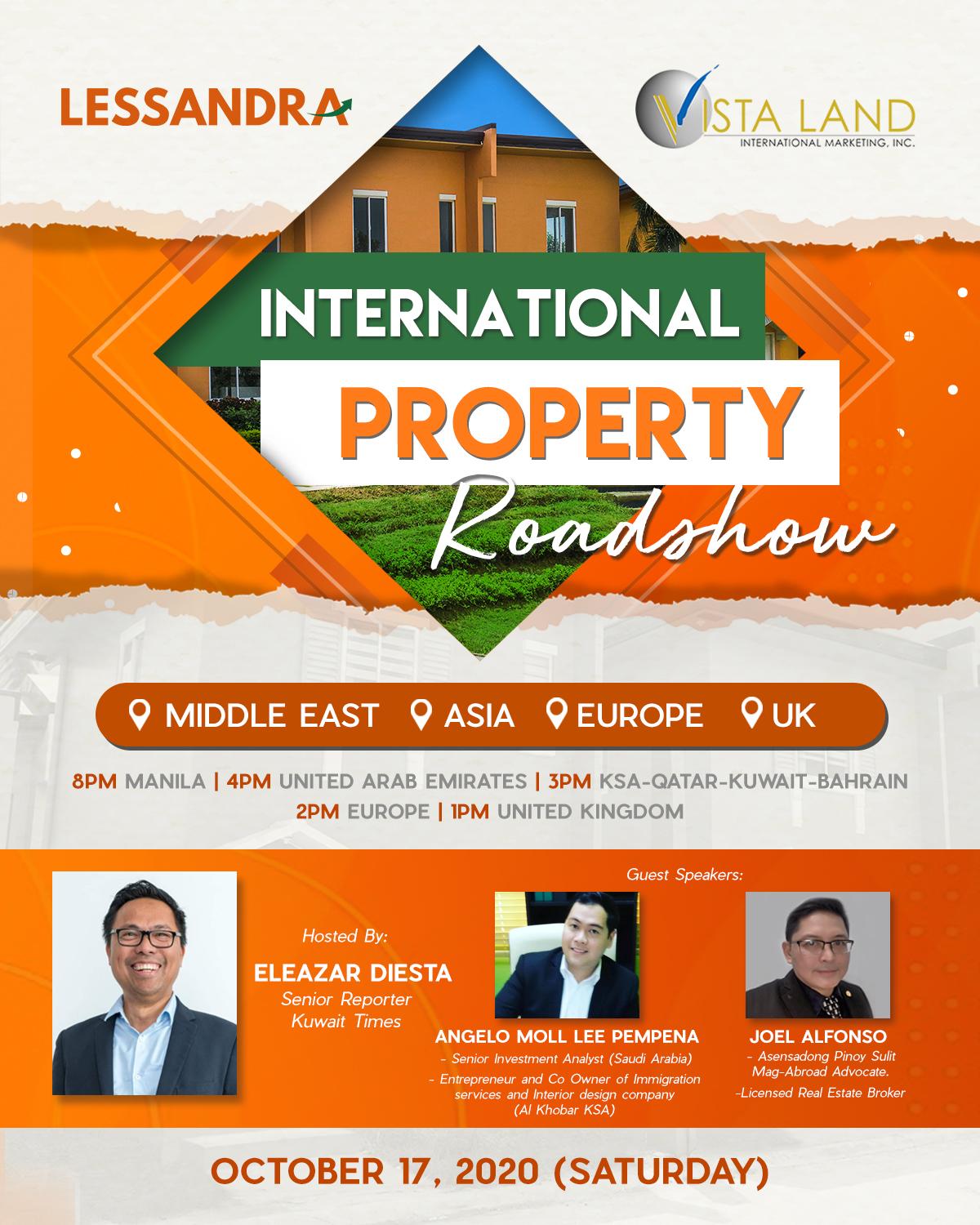 The international online event will be held on October 17, 2020, Saturday, at 8:00 pm via Zoom. Hosted by Kuwait Times Senior Reporter Eleazar Diesta, the event brings to stage noteworthy influential speakers--Mr. Joel Alfonso, Asensadong Pinoy Sulit Mag-abroad Advocate, and Mr. Angelo Pempena, entrepreneur and senior investment analyst--to talk about guides and advice on the best steps to take in real estate ventures.
As it always has been, owning and investing in a house and lot entails several factors to be considered: life goal alignment, financial stability, and the current economical and societal issues and events. Also, being an investor requires being well-versed when it comes to handling and growing investments.
Well-known for offering quality and affordable house and lots in the Philippines, Lessandra will showcase in the International Property Roadshow the boundless advantages and opportunities of owning Lessandra properties, as well as the upsides of choosing a house and lot among other real estate options.
The International Property Roadshow guarantees well-rounded discussions about choosing the right track and aligning life goals in order to make the right property investment choices while facing the new normal challenges.
Get to know your future home and investment! Join Lessandra and VIMI in the International Property Roadshow! Register now at https://us02web.zoom.us/meeting/register/tZAtd-qgrzguEtx7Tzijd0NpIt153KCjYNxF and sit down with us as we tackle the ins and outs of your future real estate ventures in the new normal!