Sorsogon is the southernmost province in Luzon located in the Bicol region. Included in the must-visit tourist attractions in Sorsogon are the Whale Shark Interaction Center in Donsol, Paguriran Island and Lagoon in Bacon, Lola Sayong and Buenavista Surf Camps in Gubat, Bulusan Volcano Natural Park in Bulusan, Hot and Cold Springs in Irosin, and Subic Beach in Matnog. This province is a perfect haven for nature lovers and adventure-seekers. Apart from being a famous tourist destination, Sorsogon province is now being seen as an attractive investment destination.
Sorsogon is a hub of trade, commerce, and industry, being the gateway of Luzon to and from Visayas and Mindanao. Sorsogon takes pride in its growing and promising developments. With all the progress in place, Sorsogon is rapidly emerging as an investment haven.
Sorsogon Infrastructures and Neighboring Developments
The major thoroughfare of Sorsogon province is the Pan-Philippine Highway, also known as the Maharlika Highway. This road interconnects Pilar, Castilla, Sorsogon City, Casiguran, Juban, Irosin, before ending at the Matnog Ferry Terminal in Matnog, Sorsogon. Traveling to and from the province is easy and hassle-free, with its traffic-free roads offering a breath of fresh air and a picture-perfect view.
Another great news for road travelers way down south is the opening of Sorsogon City Coastal Road in August 2020. This four-lane road with a total length of 5.52 kilometers stretches from Rompeolas (Sorsogon City's baywalk) up to Barangay Balogo. Sorsogon City Coastal Road consists of a rock causeway and three (3) bridges, which begins at junction Daang Maharlika traversing several barangays of Sirangan, Sampaloc, Balogo and will connect to barangays Pangpang, Tugos, Cambulaga, and Talisay in Sorsogon City.1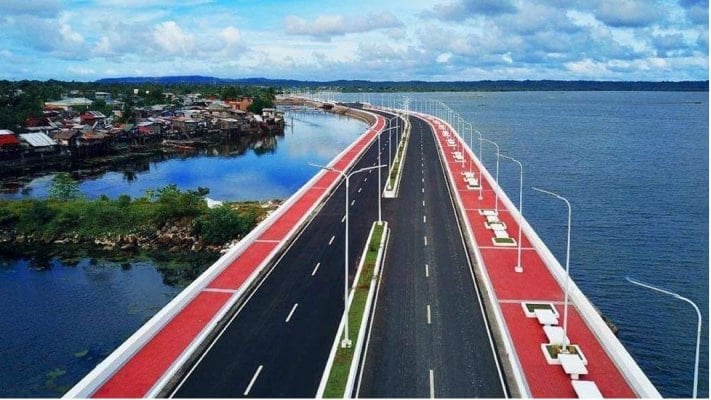 Source: Top Gear Philippines
Not only is the province of Sorsogon booming with developments, but also, the greater Bicol region enjoys an infrastructure boom. Another major infrastructure for Bicolanos to look forward to is the Toll Road 5 (TR5), a 420-kilometer, four-lane expressway starting from the terminal point of the now under construction SLEX Toll Road 4 at Barangay Mayao, Lucena City in Quezon to Matnog, Sorsogon, near the Matnog Ferry Terminal.2 This project will connect Quezon and Bicol provinces and will reduce travel time from Lucena to Matnog from 9 hours to 5.5 hours.
An hour away from Sorsogon is the Bicol International Airport (BIA), an under-construction airport in Daraga, Albay, set to be completed in 2021. Bicol International Airport is dubbed as the country's "Most Scenic Gateway" because it features the Mayon Volcano as its backdrop. According to the Department of Transportation, the BIA is expected to boost air traffic in the region and serve two million airline passengers every year once it is fully operational.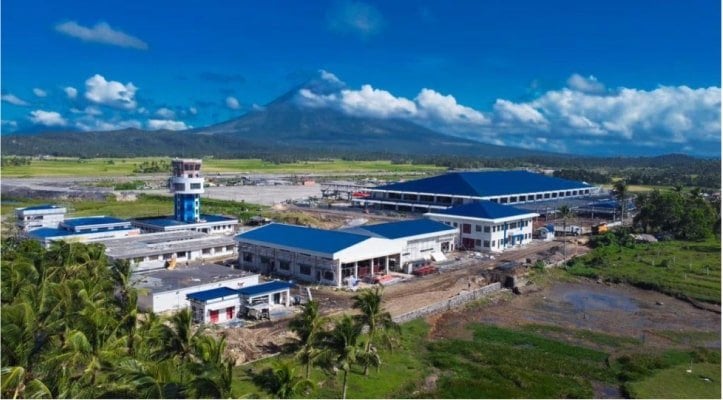 Source: Manila Bulletin
These infrastructures will surely spur dynamic tourism activities and efficient exchange of goods in the Bicol region. Travel will be easier and tourist destinations will be more accessible to visitors. The agricultural and food production sectors and the tourism industry are expected to benefit from these infrastructure development projects. The Bicol region will see more job and business opportunities as it is emerging into a growth center.
Festivals in Sorsogon
Apart from the must-see destinations, festivals are also a great way to attract tourism. Like most provinces in the Philippines, there are festivals in Sorsogon celebrated annually.
Kasanggayahan Festival is the largest event in Sorsogon province. Celebrated in the month of October, this festival commemorates the founding of Sorsogon as a province. Before the declaration of Sorsogon as a province in the Bicol region, it was a part of Albay.
"Kasanggayahan" means prosperity. Kasanggayahan Festival showcases Sorsogon province's abundant agricultural products, most especially Pili. The highlight of the festival is the "Pantomina sa Tinampo", a traditional Bicolano dance, which tells of love and courtship by imitating the movement of doves. This parade is participated by thousands of Sorsoganons dressed in colorful traditional Filipino costumes. In October 2019, Sorsogon bagged the Guinness World Record for the largest Filipino folk dance with a total of 7,127 people who participated in the Pantomina dance.
The Sorsogueños
The people of Sorsogon call themselves Sorsogueños. Sorsogueños are known for being religious, friendly, and hospitable. Visitors would surely love the Sorsogueños as much as they would love the beautiful scenery of Sorsogon. There are famous people who came from the Sorsogon province, such as the now Governor of Sorsogon, Francis "Chiz" Escudero, and the late actor regarded as the "greatest Filipino actor of all time", Mr. Eddie Garcia.
Local Foods to Try
Eating local food is the best part of traveling. One would not get a complete experience of a place without getting a taste of its food.
The first things that come to mind when we think of Bicol cuisine are surely spicy, coconut cream-based dishes. Bicol region is well-known for its dishes containing sili (hot chili pepper) and gata (coconut milk). The region takes pride in its Bicol Express, Pinangat, Pili Nuts, and Sili Ice Cream. But did you know that there are more foods to explore in Bicol? Head to Sorsogon and try out the best-kept secrets and delicious food and delicacies of the province.
Sorsogon is a place to be for seafood lovers. It is the home of the exotic Baluko, a pen shell served either fried, adobo, or seasoned in coconut milk and chili. Another dish that would suit the palates of seafood lovers is Kinagang, a Sorsogon delicacy made from grated coconut, shrimp, crab meat, scallops, lemongrass, and mint-wrapped in hagikhik leaf.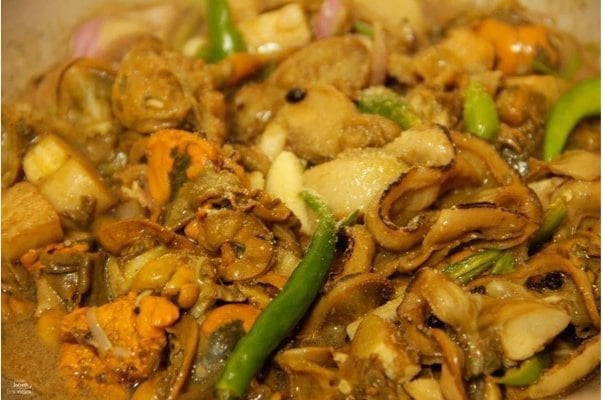 Source: It's More Fun in Sorsogon
A must-try local delicacy for those who love sweet foods is Timitim, a native 'kakanin' from Gubat, Sorsogon. It is made of grated cassava, brown sugar, eggs, milk, and coconut milk, topped with pili nuts or sweet cheese (mix of cheese and corn).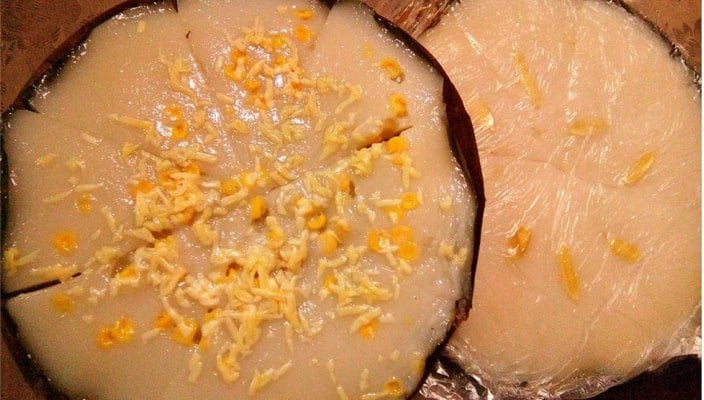 Source: The Bicolano Man
Best Homes
More than the tourist attractions in Sorsogon to explore, festivals to enjoy, the people to meet, and local dishes and delicacies to try in Sorsogon, the province is an ideal place for real estate investment. With all the developments in the province, locals are now enjoying a life close to all the progress and convenience. Located at the heart of the progressive Sorsogon City is Lessandra Sorsogon, a sprawling maaliwalas community offering the best quality and affordable house and lots in Sorsogon.
Lessandra Sorsogon is a 10-hectare Italian-Mediterranean-themed community in Brgy. Cabid-an, Sorsogon City. It offers a perfect living experience to its homeowners, being situated along the Maharlika highway and with close proximity to commercial establishments, terminal stations, hospitals, schools, churches, and government institutions. This Angat community in Sorsogon guarantees its homeowners' 24/7 safety and security coupled with family-centric amenities and services such as clubhouse, basketball court, kids' playground, guarded entrance gate with CCTV, and shuttle service.
Experience perfect living inside a community situated at the center of progress and development, without going far away from nature and adventure.
---
Lessandra Blog is a compilation of lifestyle, community, and home-related articles. For real estate investment and tips on how to buy house and lots in the Philippines, visit Lessandra's Lifestyle and Home Investments section. To know more about quality and affordable house and lots in the Philippines, give the property listing section a visit. Live in best, live in Lessandra.
References: